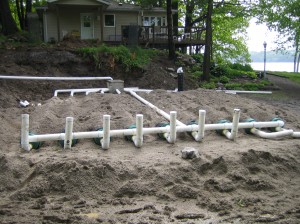 Let our staff at GeoCor help you complete your construction project(s) by directing you through the myriad of regulations and red tape involved in land development and more specifically sewage system planning, design, approvals and construction. GeoCor has extensive experience in residential, commercial and institutional designs that require Health Unit or Ministry of the Environmental approval, amongst other stakeholder approvals.
GeoCor Engineering is a pro-development orientated organization, seeking profitability for its clientele, so let us assist you in your land severance or plan of subdivision applications.
To the private home/property owner, your project and objectives are important to us. GeoCor has actively been helping numerous owners with their private sewage system requirements since 1985. We would be more than glad to discuss your concerns and or plans.
Some of the areas where GeoCor can help you are:
Terrain Analysis: Essential in achieving lot approval during severance applications. This task is quite often required by governing bodies prior to establishing a severed parcel of property that would be intended as a building site. This task in general requires the planning for the physical location of the sewage system, potable water well and structure on the subject development site.
Investigative and Consultation / Reporting: Quite often a builder will develop plans to develop a specific parcel of property, then realize the sewage system and well placement takes precedence over the building location; or worse, there are few options for sewage system placement. GeoCor's staff have helped many developers and private home owners derive a safe plan of action for lot development. Sometimes, a simple on-site consultation with the client is required, other times, an intrusive subsurface investigation combined with reporting indicates a feasible plan for development. Often, developers will also make use of any geotechnical information obtained during the investigation to plan for the building construction.
Design and Approvals: Once sufficient site information is in hand computer generated drawings are used to produce a sewage system design scheme. Usually, upon approval by the client, the design is accompanied by an application submitted to the governing body for regulatory approval. A great advantage of obtaining a sewage system design and application, ready for submittal, from GeoCor is that the client can contact many sewage system installers with the identical design, thus obtaining comparable installation prices from a range of contractors. Don't let lot restrictions defunct your site, consult our staff on secondary and tertiary treatment sewage systems.
Supervision of Construction: Our experienced staff can supervise the bidding process and subsequent construction of your sewage system. Quality control of the construction process is sometimes required by the governing bodies, sometimes by the owner, in order to ensure the sewage system is installed and functions as planned.